Nic Bax
Professor Nic Bax is the director of the National Environmental Science Program Marine Biodiversity Hub. He has spent the past 35 years developing options to improve marine resource management, and is often found attempting to explain scientists to managers and managers to scientists. He arrived in Australia in the early 1990s just after the peak of the orange roughy fishery and took over leadership of AFMA's orange roughy assessment group, surviving several international reviews as the difficult task of reducing and eventually closing the orange fishery proceeded. He is pleased to see that it is now recovered to the point where a small fishery can resume. At the same time he worked with the current voyage leader, Alan Williams, on seafloor habitat on the continental shelf (25–200 m depth) and ever-deeper environments.
This is NIc's first visit to the southern seamounts despite talking and writing about them for 20 years. The voyage provides an opportunity to see at first hand what these seamounts look like, to better understand how fisheries impact the seamount fauna, and the role that Marine Parks can play in their protection and recovery. In addition to Parks Australia, he will share this experience internationally through the UN Convention on Biological Diversity, and the IOC-UNESCO Global Ocean Observing System. On this voyage he is overseeing the communication activities, assisting in survey design and its implementation, and providing an insightful daily report of the science activities.
---
Gemma Boyle
I'm a Senior Marine Parks Officer in the Communications Team at Parks Australia. I lead the web and digital needs for Australian Marine Parks, including the Australian Marine Parks Science Atlas. The Atlas is designed to help communicate the historical science and research underpinning the design of Australian Marine Parks and share information about new and ongoing scientific research, like this voyage, in our parks. I am very excited to have the opportunity to capture scientists in action as we voyage into our marine parks and share their amazing new discoveries with the world.
---
Ingo Burghardt
Born and raised in Germany I did a PhD on 'solar-powered' nudibranchs. My research brought me to Australia, where I worked at the Australian Institute of Marine Science in Townsville and at the University of Technology in Sydney. I am passionate about the diversity, taxonomy and ecology of various marine invertebrate taxa (such as nudibranchs, corals, jellyfish and polychaete worms), coral reef ecology and marine symbioses. My current focus at the Australian Museum Sydney is on the diversity and biogeography of polychaete worms and on invasive marine invertebrates. So far I have mainly worked in tropical shallow coral reefs so it will be an exciting new experience for me to explore the diversity of deep sea cold water coral reef organisms. My role on Investigator will be collecting, processing, and preserving marine invertebrates.
---
Malcolm Clark
I am a Principal Scientist (Fisheries) at the National Institute of Water and Atmospheric Research (NIWA) in Wellington, New Zealand. I used to work on stock assessment of Orange Roughy, before expanding research to more general deep-sea ecosystems and the effects of human activities. I have led numerous deep-sea research programs at NIWA with an emphasis on the biology and ecology of fish and benthic invertebrate communities associated with seamounts and other deep-sea habitats. My current interests focus on evaluating environmental effects of fishing and seabed mining, and development of risk assessments to help managers balance exploitation with conservation of habitat. Over the years NIWA and CSIRO have worked closely on seamount research, and I bring experience to this survey from similar work done across the Tasman. As a principal investigator, I will be leading a watch, and helping to plan and direct sampling operations.
---
Ricky Lee Erickson
I am an assistant collection manager in the vertebrate collection at Museums Victoria, where I help manage the vast collection of birds, fishes, mammals, reptiles and amphibians. I have previously worked on polychaete worms and recently described a new deep-sea species! During my masters' degree, I studied the resilience of sessile invertebrate communities in Port Phillip Bay. My role on the ship will be to sort through the invertebrates in each catch and assist with tissue sampling, recording, photographing and preserving the animals, which will be lodged in Australian museums for future research. This is my first scientific voyage and I'm very excited to have the opportunity to contribute to this exciting project! I'm looking forward to the challenges of life at sea and meeting other marine scientists.
---
Alice Forrest
I am a conservationist and marine biologist based in the hills of Byron Bay on Australia's east coast. My passion for the natural world and the creatures who inhabit it led to a range of incredible adventures, from studying blue whales in the Indian Ocean to seabirds and plastic on remote Henderson Island. I completed my honours at UTAS in 2016, studying the ingestion of plastic by commonly eaten fish across the South Pacific.
My role on the ship will be assisting Dr Eric Woehler in an opportunistic survey of seabirds and marine mammals in the area. Essentially this entails sitting with binoculars and staring at the sea during all the daylight hours, documenting all the birds, whales and dolphins we encounter in this unique part of the ocean! With my previous experience in marine mammal surveys in the Indian and Pacific oceans, I'll have my eyes peeled for unique creatures such as beaked whales as well as some of my favourites, like humpback and pilot whales!
My Instagram is @forrestinwonderland and I also have a website (www.aliceforrest.com)
---
Bethany Green
I am a media studies student at University of Tasmania (UTAS), and for this voyage, an intern with the NESP Marine Biodiversity Hub. I am majoring in journalism and international relations, while also working towards a diploma of languages, Mandarin. I am passionate about news journalism, and telling stories about people and community. I have worked with several publications in Australia and as assistant editor of the UTAS student news publication Togatus. After completing my studies at UTAS, I hope to become a foreign correspondent in East Asia. I am excited to be working alongside the crew, scientists and communication team onboard Investigator to share their stories.
---
Simon Grove
I am the Curator of Invertebrates at the Tasmanian Museum and Art Gallery, where my remit – or should I say my indulgence – covers not only the marine invertebrates but also terrestrial and freshwater ones too, with an emphasis on Tasmania and Tasmanian waters. This taxonomic breadth suits me fine, since my areas of specialism are two very different groups of invertebrates: beetles and marine molluscs. I maintain a website on Tasmanian Marine Molluscs (https://molluscsoftasmania.org.au/) and published 'Seashells of Tasmania: a comprehensive guide' a few years ago.
Much of the mollusc material from one of the previous surveys of the Tasmanian seamounts came my way, and I was amazed at both the diversity and the fact that most of these deep-sea species were apparently new to science. While I could just sit in the lab awaiting the next batch, nothing beats first-hand experience! So, while I'm a newbie at this sort of thing, I'm really looking forward to being there when benthic samples are retrieved from these seamounts, and seeing what molluscan (and other) marvels are living down there. That is, if I'm not horrendously sea-sick – something that I won't find out until we're out at sea.
For me, this voyage also represents a personal milestone, since I'm now two years out from a life-saving but physically and mentally challenging bone-marrow transplant. Just being able to participate gives me a sense of validation that I'm well and truly back in the land of the living!
---
Laetitia Gunton
I am a Chadwick Biodiversity Fellow working in Marine Invertebrates at the Australian Museum, Sydney. I research deep-sea marine worms which live on the ocean floor. I am particularly interested in how different species of worm are distributed in the deep sea around Australia. This voyage will be a great chance for me to find out what types of marine worms live on Tasmanian seamounts. My role on the ship will be processing biological samples and I'm very keen to find some worms!
---
Emily Harris
I'm an Assistant Director in MPA Management South section of Parks Australia. We manage both the Temperate East and the South-east marine parks networks, including the Freycinet, Flinders, Huon and Tasman Fracture marine parks. Not only is this a rare opportunity to visit some our offshore marine parks, it is my first scientific voyage. I am very excited to be joining this voyage as an image processor and keen to learn about all the different sorts of research and monitoring techniques that we use to inform the management of our Australian Marine Parks - in the best possible classroom. Thanks for having me aboard, Investigator!
---
Jan Jensen
I'm a marine ecologist at the University of Tasmania, and I'm interested in understanding how biodiversity is distributed along the seafloor of the oceans. Biodiversity is nature's most valuable resource, and only by better understanding where biodiversity is distributed can we make informed decisions about how to best protect it. Therefore, I mostly produce maps that show where different species and communities can be found, and these maps can be used to support management and conservation efforts. I'm making these biodiversity maps by combining observations of biodiversity (in this case from the seamounts) with maps of how deep, how steep, and how irregular the seafloor is (and other variables such as where fishing has previously damaged the seafloor) to predict where we are most likely finding the species we're looking for.
My role during the voyage on the Investigator started way before leaving port as I've helped to develop the strategy of where to drop the cameras during the survey. On board, I'm helping with analysing the data we receive from the cameras. You can follow me on Twitter (@JanJ_Ecologist) or find more information on my website (www.janjansenresearch.wordpress.com).
---
Fraser Johnston
I am an Emmy nominated film maker and co-Founder and director of Hobart-based production company Crow's Nest media which specialises in science, natural history and filming in extreme environments. I love spending time outside in our national parks, and as a keen scuba diver I'm extremely excited to be able to visit and document some of Australia's most remote and infrequently visited marine parks. On Investigator I will have a front row seat to the cutting edge science and latest technology being used to survey these rarely visited and little studied seamount habitats. Whenever you go into environments where few have ventured you can never be too sure about what you might find, and I'm certain that this voyage will throw up plenty of surprises. One thing I have been assured of, however, is that the catering will be top notch.
---
Zara King
I am a recent graduate from the University of Queensland, where I majored in biology and ecology. I live on the Gold Coast and spend five months of the year working as a naturalist and deckhand aboard Spirit of Gold Coast Whale Watching. During the voyage, I will assist Eric Woehler with seabird and marine mammal observations. I'm hoping we will be able to spot at least one species of the elusive beaked whale, which can be found around the southern seamounts. I would like to continue researching marine mammals in some capacity in the future.
---
Cassie Layton
I'm a Senior Marine Parks Officer in the North Team at Parks Australia. In my previous role I coordinated Parks Australia's participation on the voyage. We're contributing to the project in order to better understand the Huon and Tasman Fracture Marine Parks, which are home to some of the amazing seamounts being surveyed. The long-term datasets being produced will help Parks Australia evaluate the effectiveness of monitoring and management actions to enhance the long-term survival probabilities of deep-sea corals. I'm lucky enough to be coming on board along with a few colleagues to help analyse the imagery being collected by the scientists and to learn more about the creatures lurking deep in our marine parks.
---
Dave Logan
I'm a Senior Marine Parks Officer in the Science Team at Parks Australia. As lead of science communications, I help to increase awareness and understanding for the amazing and vulnerable marine life in our Australian Marine Parks. Working with our research partners across all of our offshore marine parks, I also help design and deliver projects that inform better park management. I have a background in coral reef ecology, studying, diving and snorkelling on the warm shallow waters of the Great Barrier Reef. I feel very privileged to join this journey revealing the hidden wonders of a very different environment – the deep sea coral communities clinging to the seamounts in Tasman Fracture and Huon Marine Parks, as well as other biodiversity hotspots off Tasmania. I am particularly excited to help sift through samples and underwater footage and can't wait to share key discoveries and highlights from the voyage.
---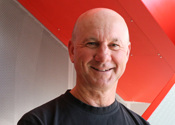 Alan Williams of CSIRO is the chief scientist and voyage leader. He leads several CSIRO projects, and contributes to others, that focus on understanding the biodiversity and structure of deep sea ecosystems, including human uses - principally for fishing and by oil/gas industries. His team and collaborators develop and use photographic and acoustic remote sensing tools and techniques to assess habitats, biodiversity and ecosystem structure in deep continental margin (shelf, slope and rise) depths (100 to 5000 m). Research results from his projects have had uptake in many Australian marine fisheries and conservation management initiatives and policy settings, such as design and zoning of Australia's network of offshore Marine Parks, and spatial management in fisheries.
---
Kylie Maguire
This voyage concludes my Bachelor of Environmental and Marine Science and management (fisheries major) undertaken at Southern Cross University, NSW. Joining the Investigator as an intern, my role will predominantly be working with image data of deep-sea corals.
Outside of academia, my skills are the product from working on an array of yachts coupled with various conservation and ocean-based organisations. Throughout my degree I complimented my university coursework with a range of volunteer field research, from a shearwater study at Lord Howe Island, to mangrove die-back research in the Gulf of Carpentaria, to investigations of nutrient and carbon derived groundwater in the Cook Islands, to name a few.
I feel extremely lucky and excited to sail onboard the Investigator, to work within a dynamic team of reputable scientists, and to learn more about this intriguing ecosystem, deep-sea corals.
---
Alison Miller
I work in the Malacology collection at the Australian Museum in Sydney. The collection contains in excess of 900,000 lots of molluscs and brachiopods and covers marine, freshwater and terrestrial habitats. Although focused on Australia and surrounding areas, it has samples from across the globe. My role at the Museum includes collecting, processing, cataloguing, curating, identification, photography, loans, responding to enquiries and general assistance to the Manager and related Researchers.
My duties on board Investigator will involve the processing of biological material. This is my first trip on a deep sea voyage so I am particularly excited at the prospect of seeing the deep sea fauna.
---
Kirrily Moore
I am the Invertebrate Collection Manager at the Tasmanian Museum and Art Gallery. Being a small museum means I get to work across all invertebrates from giant squid to ants and all the others you can think of. Generally I am responsible for registering and labeling specimens, storage, loans, databasing and identifications but some days I find myself doing the most unexpected and diverse tasks! My specialty is the taxonomy of deep-sea soft corals (octocorals). I'm still learning in this area and a trip like this will allow me to extend my knowledge and broaden my experience with taxa I haven't seen before.
I'll be helping in the labs with the general bulk sort of trawl samples, getting the catch into manageable groups and if there is time into species units. I've worked on specimens previously collected from the southern Tasmanian seamounts and described three new octocoral species from the area. I'm currently working on another species collected from this area and would really like some fresh specimens of this species for DNA research.
---
Jason Mundy
I am the Assistant Secretary of the Marine Protected Areas Branch in the Parks Australia Division. I have responsibility for managing the Australian Government's 58 Australian Marine Parks. Located around Australia, these parks are managed to protect marine biodiversity and other natural, cultural and heritage values. They also support the ecologically sustainable use of marine resources. Prior to joining Parks Australia, I oversaw the Strategies Branch at the Australian Antarctic Division and spent a number of years with the Department of Foreign Affairs and Trade. My roles during this time included overseas postings in the Philippines and Thailand and Director of the China Political and External Section. I am looking forward to joining such a multi-disciplinary team of scientists on board the Southern Corals Voyage. It provides an incredible opportunity to build our understanding of some of the habitats and species protected within the South-east network of marine parks.
---
Christine Rees
I am a seagoing marine analytical chemist (hydrochemist) in the Hydrochemistry team within the Science Engineering and Technology Group (Engineering and Technology, CSIRO Oceans and Atmosphere). I have 25 years of technical experience in analysing marine and freshwater environments for a range of physio-chemical parameters. I provide support to science projects on board Investigator and in the CSIRO Ocean and Atmosphere hydrochemistry laboratory based in Hobart. Hydrochemistry specialises in coastal and marine nutrient, salinity and dissolved oxygen analyses and data processing to deliver high quality data to clients such as the chief scientist or principal investigators during a voyage.
---
Cath Samson
I'm a Senior Marine Parks Officer in Science Team at Parks Australia. My job involves advising on the science needs for Australian Marine Park management and working with scientists to develop research and monitoring projects for the marine parks. On the voyage I will be analysing video footage which will be a great opportunity to get to see in detail what's in the marine parks. I am very excited to get another opportunity to be directly involved in Tasmanian seamount research. As a marine science PhD student, I participated in a geology voyage to this general area. Samples we collected from this voyage contained a huge diversity of marine life but with no specialist biologists or taxonomists on board, we never learnt what they were. On this trip, I am really looking forward to the opportunity to work alongside seamount experts and learn about all the weird and wonderful critters that we find.
---
Tiffany Sih
I am a PhD student at James Cook University, finishing a research project on the deep-reef fishes of the Great Barrier Reef and tropical deepwater fisheries. Working on deeper environments is challenging and often we have to make the best use of ship-based technology, so I am eager volunteer for this Investigator fieldwork, helping with towed camera surveys. Working with deep surveying equipment often means preparing for large changes in pressure. Working out at-sea means you have to be prepared for everything and bring spares of spares. I always bring lots of cable ties and a can-do attitude! It is very important to protect deepwater habitat (and survey what is in and around it) as a critical step towards conserving marine environments and fishery resources.
---
Andrew Terhell
I started Crow's Nest Media with Fraser Johnston in 2015. Since then I has filmed and edited science and sports communication videos for businesses such as IMAS, UTAS, The Hobart Hurricanes and TasPorts. A highlight of my media career is featuring on a David Attenborough documentary riding a bike through bioluminescence, wearing a wetsuit and Blundstones.
I teach Digital Media at the University of Tasmania Media School and am passionate about teaching and learning. Before my media career, I taught snowboarding at Mt Hotham and in Colorado for nine years. I'm always interested in trying new things, and recently learnt to cave in order to film Tasmanian cavers exploring Australia's deepest caves.
This will be my first journey on Investigator, but my father had a career at CSIRO Marine Laboratories and spent time aboard the Southern Surveyor and the Franklin.
---
Alexandra Weber
I am a Marie Sklodowska-Curie Postdoctoral Research Fellow at Museums Victoria in Melbourne. As an evolutionary biologist, I have always been interested in understanding how biodiversity arises and how it is maintained over time. My current project is about deciphering the molecular mechanisms of deep-sea adaptation in brittle stars (marine invertebrates). More specifically, I am comparing shallow and deep-water brittle stars at the genetic level, to find genetic regions specific to deep-water brittle stars. For example, these regions could be involved in adaptation to pressure, cold water or food scarcity. During this research cruise, I will be involved in sorting all biological material, and particularly focusing on processing brittle stars.
---
Eric Woehler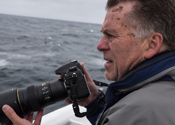 I am leading the seabird and marine mammal survey project on the voyage. It will be the fourth voyage for me this year and about my ninth or tenth in three years. I have been undertaking seabird and marine mammal surveys for almost 35 years around the world, primarily in the Southern Ocean, but have surveyed around much of Australia in the past two years on Investigator. The project aims to relate the distribution and abundances of seabirds and mammals to the physical and biological oceanographic features. The survey extends the data set from a previous project that surveyed between Tasmania and the Antarctic.
Last modified:
Tuesday, December 18, 2018 - 12:03pm