February 15, 2012
A review of seabed studies has found that governments and regulators regard habitat mapping as a useful means of measuring and monitoring change in the marine environment.
Co-editors Peter Harris of Geoscience Australia and Elaine Baker of the UNEP/GRID Arendal at the University of Sydney, draw this conclusion in the book Seafloor Geomorphology as Benthic Habitat, GeoHAB Atlas of Seafloor Geomorphic Features and Benthic Habitats.
The review is based on 57 seabed studies that form the main body of the book, and a survey of study authors that sought details of scope and location, analysis and classification techniques, surrogates and data storage.
The studies covered areas of more than a million square kilometres to 0.15 km2 and depths of eight to 2375 metres, with resolutions of 0.1 m to 170 m, and were conducted in pristine to modified environments.
The four main reasons for the studies were to:
support spatial marine planning, management, and decision making;
support and underpin the design of marine protected areas;
conduct scientific research programs to generate knowledge of benthic ecosystems and seafloor geology; and
conduct living and nonliving seabed resource assessments for economic and management purposes.
Habitat mapping was intended to be part of an ongoing monitoring program in 24 studies, and would form the baseline for monitoring future changes in a further 24.
Most authors responding to the survey considered industry, marine conservation, and the scientific community to be the primary users of habitat maps and most habitat surveys were funded by government or government agencies or institutions.
Fishing was identified as the most significant threat to seabed habitat, followed by pollution, oil and gas development and aggregate mining.
Water depth was the most useful surrogate for benthic communities, followed by substrate/sediment type, acoustic backscatter, wave-current exposure, grain size, seabed rugosity and bathymetric/topographic position index.
About half of the studies focused on Western Europe, while the margins of the continents of Africa, Asia, and South America were not represented. Estuarine and deltaic coastal habitats plus deep ocean (abyssal–hadal) environments were poorly represented.
Harris and Baker conclude that given the intense pressures facing benthic habitats and broad regional differences in ecosystems, species, and habitats, future case studies from these regions should be sought for future editions of the book.
Seafloor Geomorphology as Benthic Habitat is intended for conservation planners and managers, conservation scientists, geologists, environmental managers, ecologists, and marine resource managers.  The NERP Marine Biodiversity Hub will be extending results of their own studies included in this book to assist development of methods and sampling designs to monitor ecosystem health (through Key Ecological Features) and the developing Commonwealth Marine Reserve network
It provides a synthesis of seabed geomorphology and benthic habitats including fjords, sand banks, coral reefs, seamounts, canyons, mud volcanoes and spreading ridges captured by multibeam sonar in unprecedented detail.
Source and images:
Harris P T and Baker K eds (2012) Seafloor Geomorphology as Benthic Habitat, GeoHAB Atlas of Seafloor Geomorphic Features and Benthic Habitats. Elsevier.

 
Photo:
Chapter 30 - Two Shelf-Edge Marine Protected Areas in the Eastern Gulf of Mexico
Figure 30.4 - Coral habitats and associated fauna found in Pulley Ridge and Madison-Swanson - Agaricia sp. coral in the Pulley Ridge HAPC. The fish to the left is a rock beauty (Holacanthus tricolor). Page 441

Image:
Chapter 34 - Characterization of Shallow Inshore Coastal Reefs on the Tasman
Figure 34.2 - Perspective views of reefs along the Tasman Peninsula, showing high-relief reef surrounding the Hippolyte Rocks offshore from
Cape Hauy. (Page 485)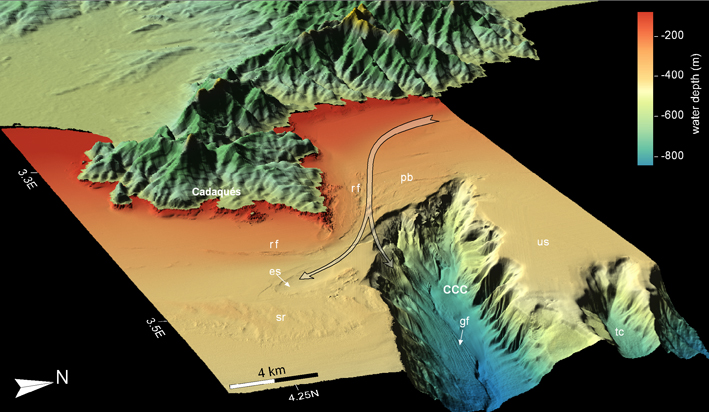 Image
Chapter 32 - Habitats of the Cap de Creus Continental Shelf and Cap de Creus Canyon
Figure 32.2 Three-dimensional perspective model of the study area: rf: relict features;
pb: planar bedforms; es: erosional scour; sr: suboutcropping rocks; us: upper slope; CCC: Cap de
Creus canyon; gf: giant furrows; tc: tributary channel. Forked arrows: bottom current paths of the
area based on Ref. [6] and inferred from the orientation of the observed morphologic features. Page 459