September 3, 2015
NESP Marine Biodiversity Hub research is well aligned with goals identified in the new National Marine Science Plan (2015─2025) released in August by the National Marine Science Committee (NMSC).
The plan was prepared in response to Marine Nation 2025: Marine Science to Support Australia's Blue Economy, a 2013 position paper from the Oceans Policy Science Advisory Group (now the NMSC). It prioritises the science needed to tackle major marine development and sustainability challenges.
According to the plan, an estimated $450 million investment on marine science helped to double the value of the marine-based economy in the past decade to $47.2 billion a year. This was set to grow at 7.5 per cent a year for the next decade, outstripping the projected 2.5 per cent growth rate of Australia's GDP.
Accompanying this growth would be seven critical challenges: marine sovereignty, security and safety; energy security; food security; biodiversity conservation and ecosystem health; urban coastal environments; climate variability and change; and resource allocation. Meeting these challenges would require coordinated, collaborative research, engaged with industry, government and the community.
Key research goals identified in the plan include the systematic collection of environmental, social and economic baseline data; establishment of a national marine system monitoring program; and better scientific evidence and decision-support to manage environmental pressures and impacts.
The plan makes the following recommendations for marine estate stakeholders.
Create an explicit focus on a sustainable blue economy throughout the marine science system.
Establish and support a National Marine Baselines and Long-term Monitoring Program to assess the marine estate and help manage Commonwealth and State Marine Reserve.
Facilitate coordinated national studies on marine ecosystem processes and resilience to enable understanding of the impacts of development (urban, industrial and agricultural) and climate change.
Create a national oceanographic modelling system to supply defence, industry and government with accurate, detailed knowledge and predictions.
Develop a dedicated and coordinated science program to support decision-making by policymakers and marine industry.
Sustain and expand the Integrated Marine Observing System to support critical climate change and coastal systems research, including coverage of key estuarine systems.
Develop marine science research training that is more quantitative, cross-disciplinary and congruent with industry and government needs.
Fund national research vessels for full use.

More than 23 research agencies, universities and government departments and more than 500 scientists contributed to the plan, which began with eight community white papers identifying challenges and science needs for different science sectors. Eleven federal departments participated through membership of the NMSC.
---
Watch a short video about the Plan
---
Further reading
National Marine Science Plan website - dowload a copy of the plan, watch the video
Launch of National Marine Science Plan - Media release "A vision in blue", 11 August 2015
Integrated Marine Observing System website
---
Images
By establishing the science priorities for each of the grand challenges, there are a number of science needs that are common to many of them. These present leverage points for tackling the interconnected, broadscale nature of the challenges, and maximising the success of the National Marine Science Plan. (Image: National Marine Science Plan 2015-2025: Driving the development of Australia's blue economy, p25)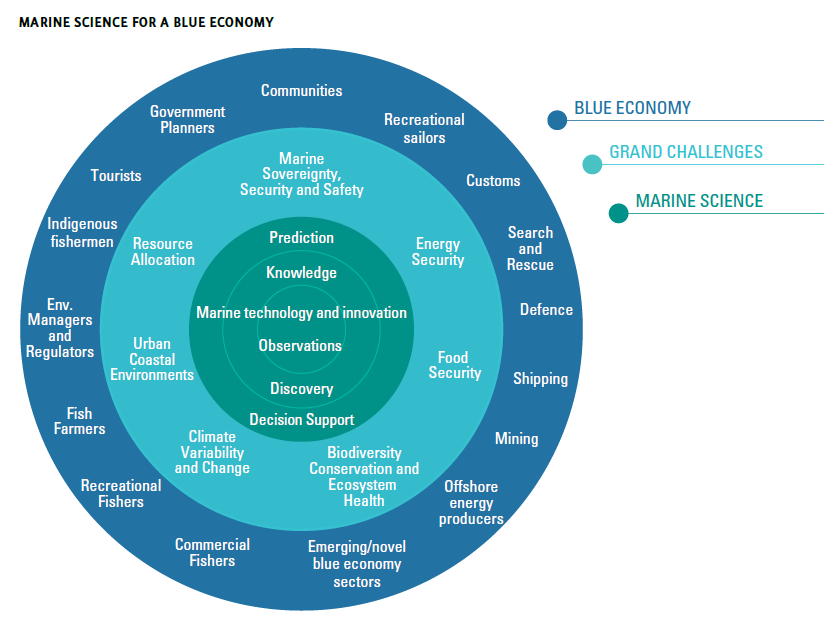 ---
Integrated Marine Observing System
Increased investment in national research infrastructure is identified as a priority in the National Marine Science Plan. The allocation of $13.963 million in federal government funding for NESP partner, the Integrated Marine Observing System (IMOS), for 2015-16 demonstrates a recognition of the value and importance of this infrastructure to the nation. This autonomous underwater vehicle is a versatile member of the IMOS stable. (Image: Kim Brooks, AIMS)
---
Contact