June 5, 2019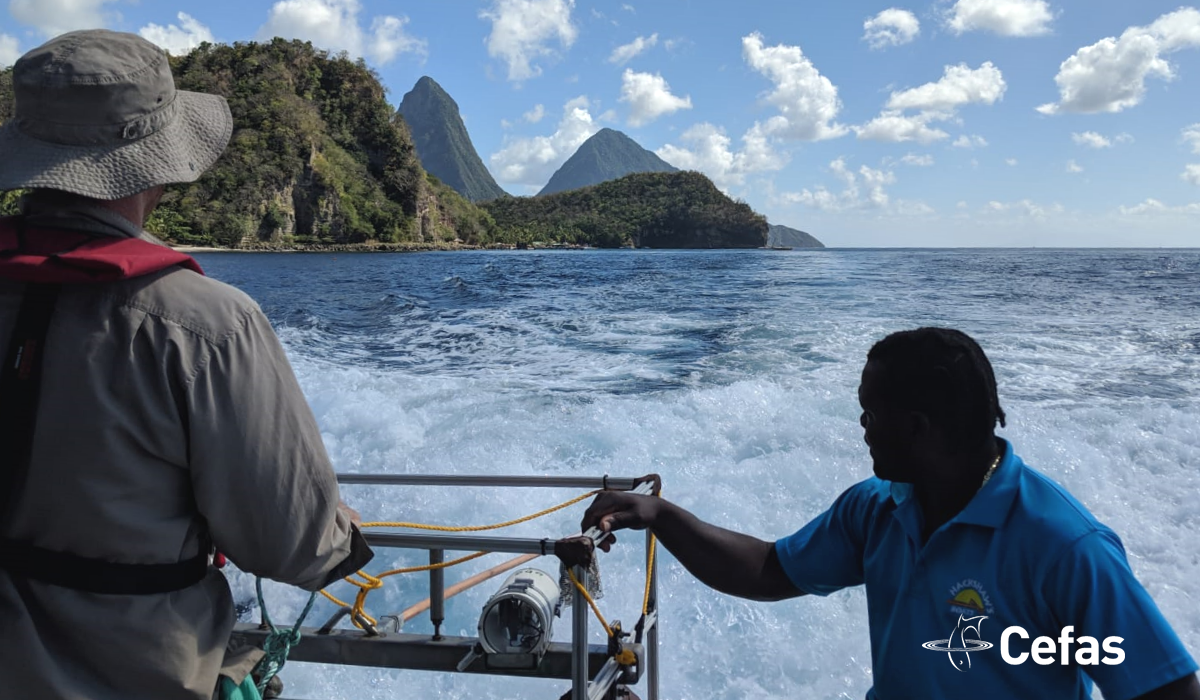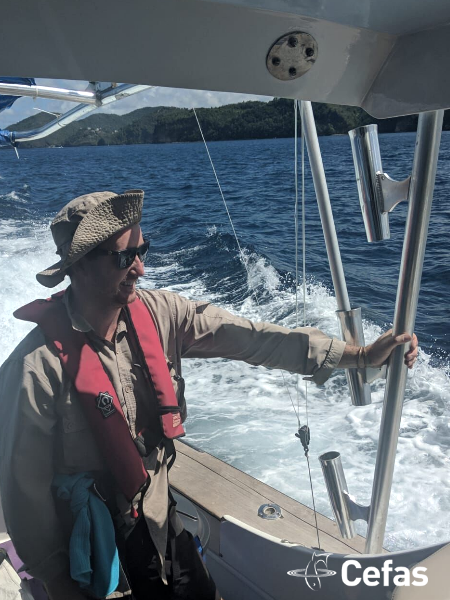 Marine Biodiversity Hub researcher Jacquomo Monk visited the Caribbean island of St Lucia to guide researchers and fisheries officers in the use of baited remote underwater stereo video (stereo BRUV). He was subsequently awarded the Hub's 2019 'smooth operator prize' for promoting the use of our standard operating procedures.
Dr Monk's visit was facilitated by the United Kingdom's Centre for Environment, Fisheries and Aquaculture Science (CEFAS), which supports marine biodiversity mapping and monitoring around the world. Their work in St Lucia is part of a broader UK Government Commonwealth Marine Economies (CME) program to better manage St Lucian fisheries and marine protected areas (MPAs).
CEFAS wanted to learn from Dr Monk's broad experience of deploying stereo BRUVs on Australian rocky reefs in Hub projects led by the University of Tasmania Institute of Marine and Antarctic Studies. They are also adopting the Hub's Field Manuals for Marine Sampling, which Dr Monk co-authored.
The training program began deep in the UK winter, at CEFAS's Lowestoft, UK, headquarters.
"CEFAS researchers have few opportunities for video-based sampling as they are located on the North Sea where there is a lot of silt in the water," Dr Monk says.
"Our experience in Australia is more relevant to their needs for international monitoring, so they are interested in our techniques and approaches, including the Hub-supported CATAMI approach to annotating underwater imagery.
"My role was to train CEFAS staff in how to use stereo BRUVs based on our standard operating procedures, before heading to St Lucia with them for 10 days of fieldwork in MPAs they mapped and surveyed with towed video last year.
"While in St Lucia, I also trained the St Lucian Department of Fisheries staff in how to use stereo BRUVs, as the CEFAS units are staying in the country as a part of the CME program."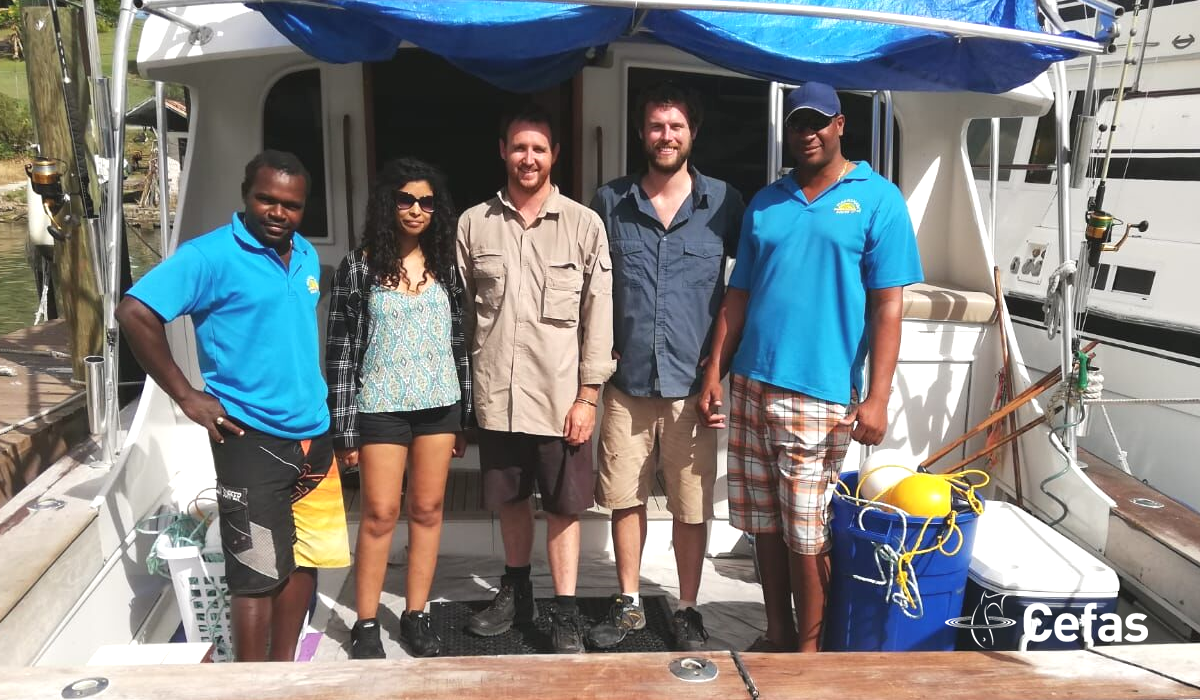 After three days in snowy UK, Dr Monk travelled to the capital of St Lucia, Castries, in the country's north-west.
A large marine management area covers these waters. Artisanal trap fishing and seine netting takes place in multiple-use zones, while no-take zones protect small areas of pristine volcanic rocky reef habitat. CEFAS and the St Lucian Department of Fisheries are keen to build-up survey data for these no take zones, and potentially beyond.
"The use of BRUVs presents a relatively novel survey method for us," says Peter Mitchell of CEFAS. "Few scientists outside Australia have worked with them before, so we asked Dr Monk to support our survey as an expert consultant.
"Furthermore, as data collected through this project will ultimately feed into wider regional databases, it was important that the methods applied are consistent with best practice for this technique.
"The survey planning and sampling methods were therefore conducted in line with the Marine Biodiversity Hub's stereo-BRUV field sampling manual."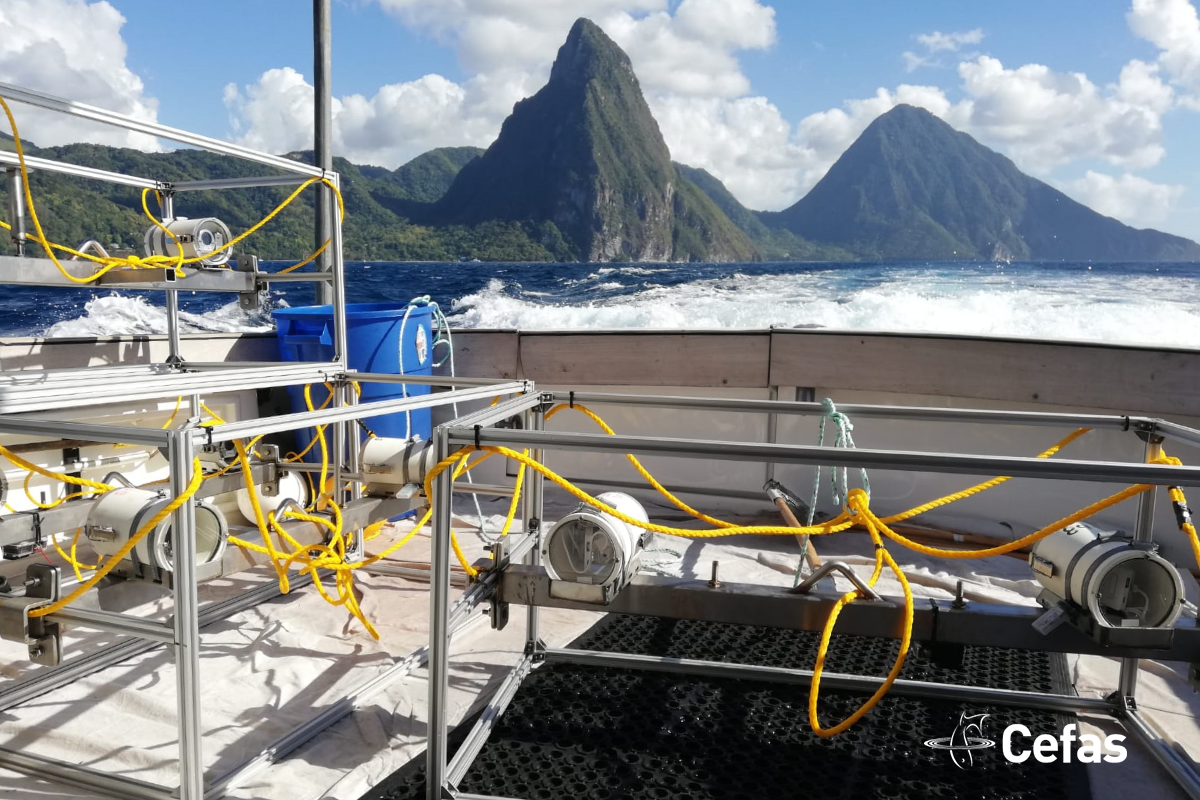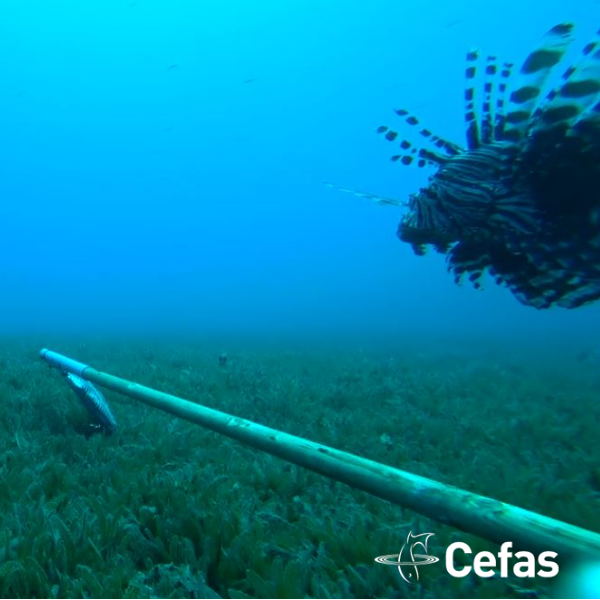 The plan was to complete 100 stereo BRUVs drops along 60 kilometres of coastline, 1–2 km offshore, from Fort Rodney in the north-west to south of Soufrière, near the UNESCO World Heritage listed volcanic spires of the Pitons.
Dr Monk says the stereo BRUV calibration and deployment according to the Hub field manuals worked well in the unfamiliar environment, with the biggest challenge being the 'bumper to bumper' vessel traffic. There were a few 'hit and run' incidents in which the stereo BRUVs were temporally lost because of the use of surface floats to show their position.
"The development of standardised protocols and a clear field sampling manual have proven to be a valuable resource throughout the project," Mr Mitchell says.
"Over the next twelve months the videos collected during this survey will be analysed and the datasets combined with seabed survey and remote sensing data to provide a holistic understanding of St Lucia's marine biodiversity.
"Within country capacity building and the development of a lasting legacy are important measures of the success of the CME Programme. Therefore, the data generated during the survey, along with training provided and equipment used, will support the Government of St Lucia to continue to better manage their marine resources."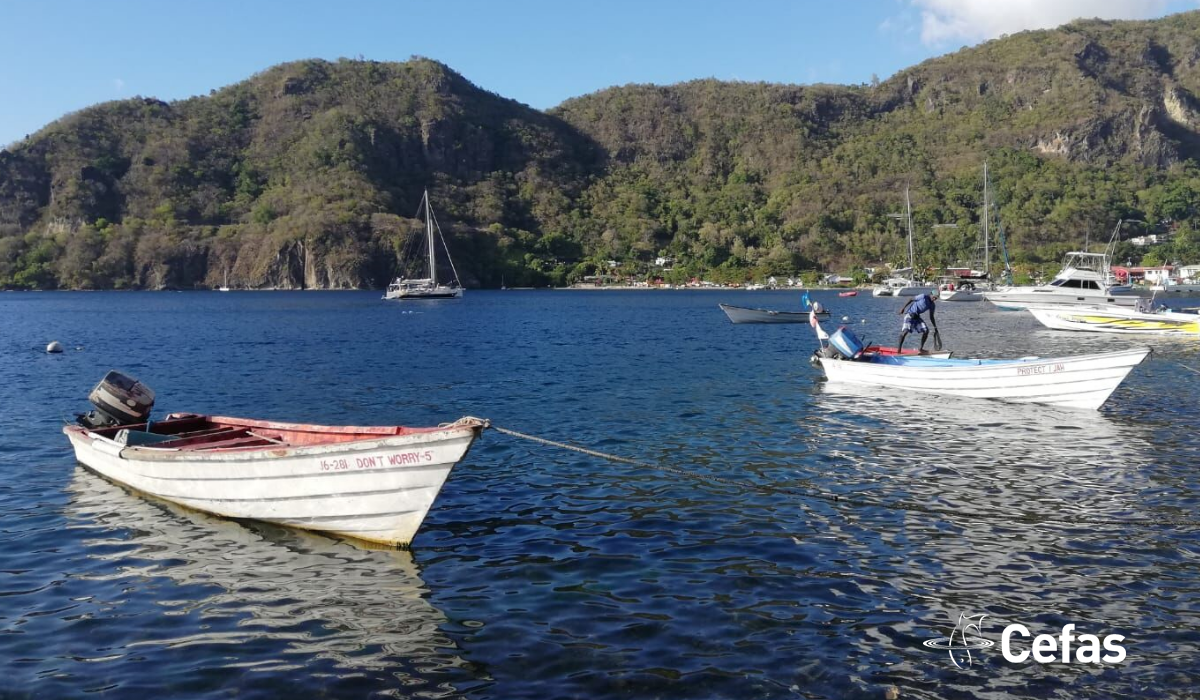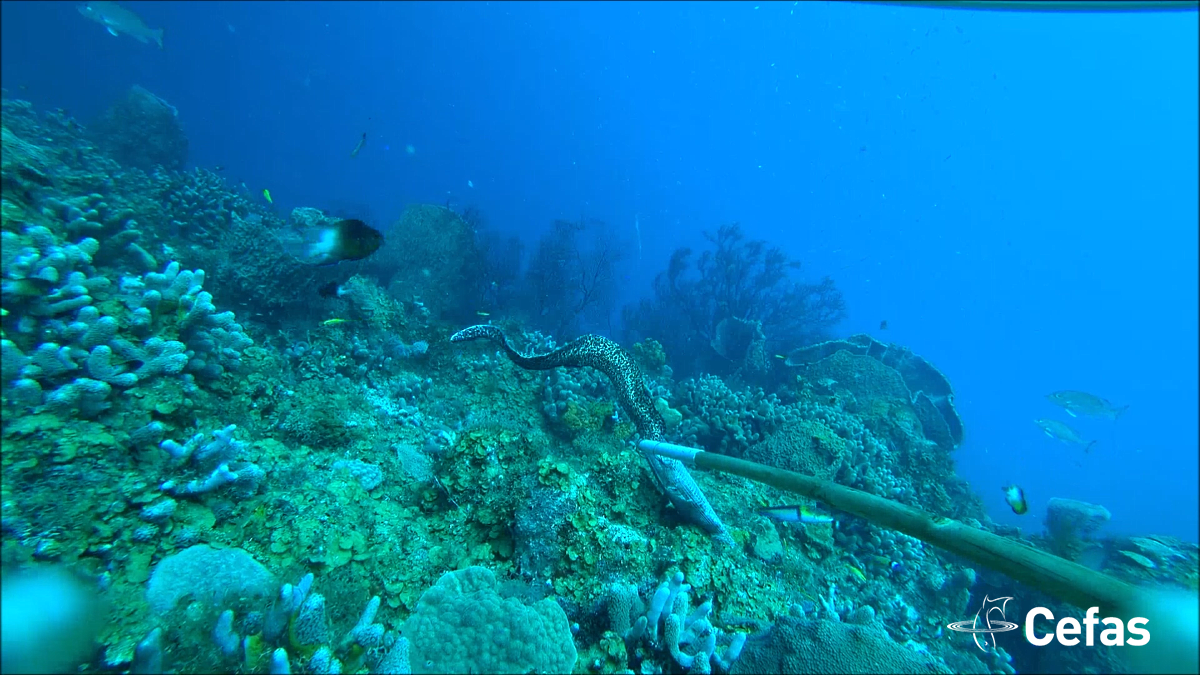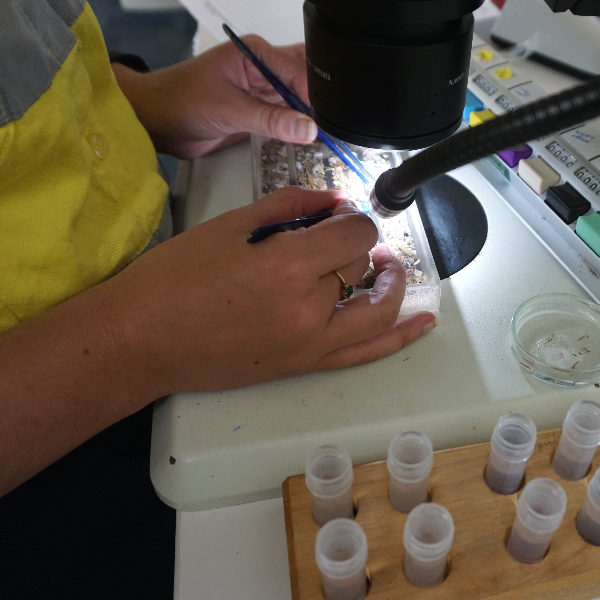 Identifying life in Sydney's water
The Field Manuals for Marine Sampling are also being used by Sydney Water's Aquatic Ecology Lab, which analyses marine invertebrate communities from benthic sediment samples, through identification and enumeration of invertebrates.
The internal methods used for sample handling, identification and enumeration reflect methods presented in the Post-survey Procedures chapter of the Field Manuals for Marine Sampling.
The core project is the Ocean Sediment Program, which involves annual monitoring of the marine invertebrate communities surrounding the Deep Ocean Outfalls in Sydney. Sediment grab samples are collected following internal methods that also align with the manuals.
"I came across the field manuals when the links were being sent around through the AMSA mailing list," says Adrienne Harrison-Gatt, an analyst with the Sydney Water Aquatic Ecology Lab.
"It was so good to see that the field methods in the manuals were the same as what we follow and that such a massive resource is publicly available. It's so useful and has allowed us to confirm that we're using the most widely accepted methods."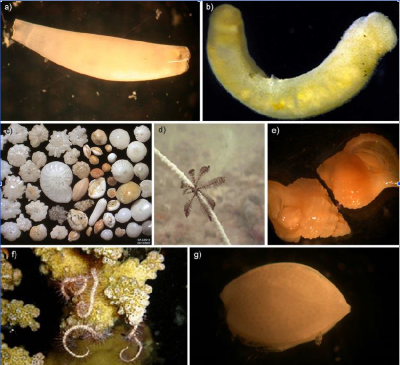 "Figure 9.4 in particular is invaluable: the descriptions of taxa that can be challenging to identify. We have our own internal work instruction that exact topic but the way you present it is much more user friendly!"
What's in Figure 9.4?
a) Scaphopods (molluscs). These are curved shells with a larger and smaller hole on each end.
b) Aplacophorans (molluscs). These are often confused with worms but are actually molluscs covered with spicules that can make them look furry.
c) Foraminiferans (protists). These can be mistaken for gastropod shells and can be particularly common in deep-sea sediments. This field manual does not target forams so their inclusion in sample processing is not required (image from Wikimedia).
d) Crinoids (echinoderms). The small animals or their dropped arms can superficially resemble polychaete worms.
e) Hermit crabs (crustaceans). These can be mistakenly sorted as molluscs because the crab has retreated into its shell and is barely visible.
f) Ophiuroid arms (echinoderms). These can often be confused with polychaetes, but you'll never see a head. There is no need to save ophiuroid arms unless the central disk is present.
g) Ostracods (crustaceans). Ostracods can be mistaken for bivalves, but they are small shrimp-like animals encased in two shells. You can often see their legs protruding from the shell.
Related information