Read other news stories from this project from 2015
---
Tropical sanctuary for elusive riverine species
Fisheries Research and Development Corporation NEWS, June 2015
Researchers have braved the dangers of remote northern locations – and fish with sharp teeth – to learn more about the health of Australia's rare sawfish and river shark populations.  Read about CDU and Hub research Peter Kyne and his team's research on page 14 of FRDC News
---
First reports of hitchhiking fish on Northern River Shark
Northern Territory Naturalist, Issue 26, June 2015
Read about the Sharksucker fish who hitchhike on Northern River Sharks in Kakadu National Park.  Why do they hitchhike?  For a free ride and tasty skin parasites of course!
---
Watch a video of one of our river shark surveys in Kakadu's West Alligator River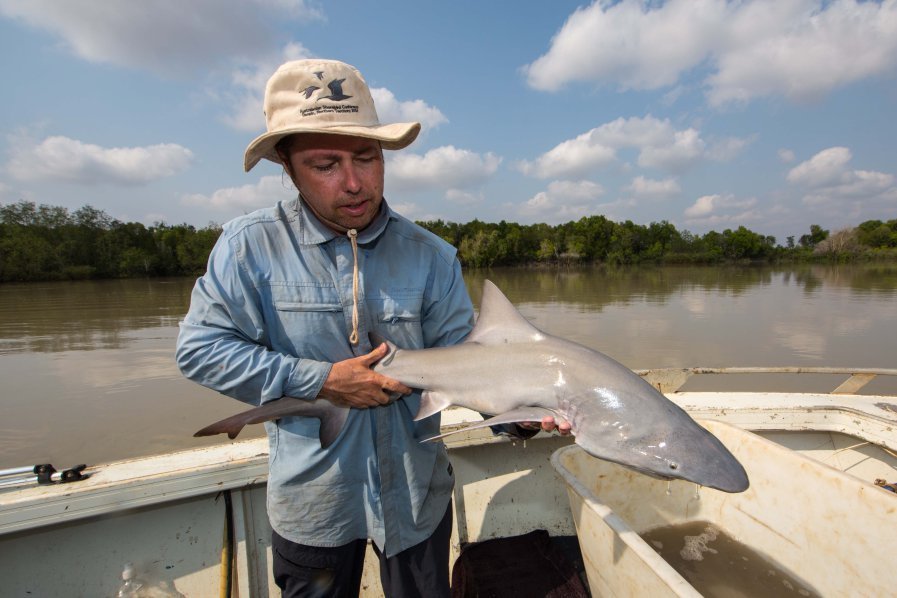 Travel down Kakadu's West Alligator River with Hub scientist Peter Kyne as he surveys the endangered Northern River Shark and critically endangered Speartooth shark.  Watch the video
Visit the Parks Australia blog - an array of sharks in Kakadu's waters
13 January 2015
Read the update from Project Leader Peter Kyne and his team's research on sawfish and river sharks in Kakadu's waters.
---
Finding a rare species of shark in the Wildman River
Kakadu Research News, December 2014
This short newsletter provides an update on what has been happening with the different NERP research projects working in Kakadu.
---
Helping Kakadu's endangered species
ABC News online, 3 November 2014
A selection of endangered species from the World Heritage-listed Kakadu National Park will be sheltered in an animal sanctuary on a remote island off Australia's northern coast. The project is part of the Federal Government's new Kakadu Threatened Species Strategy, a 10-year plan to tackle the rapid decline of some species in the park. More info
---
Step-pups key to conserving shark populations
November 2014
Twelve 'step-pups' have been identified via 181 fin samples snipped from juvenile speartooth sharks (Glyphis glyphis) in the Northern Territory's Adelaide River and Alligator Rivers region.  Identifying the half-sibling pairs will help NERP Marine Hub scientists estimate the size of the shark population, and whether it is rising or falling. They shed light on the parents' survival, because for each half-sibling pair, at least one parent must have survived in order for its offspring to be present in the river. Secondly, the proportion of half-sibling pairs found among the sample group directly relates to the number of breeding adults in the population. Thirdly, the pairings may answer the question of how frequently the females reproduce: if no sibling pairs are found in consecutive years it probably means that females can't reproduce every year.  Read the full story in the Hub's November 2014 newsletter
---
How to remove a live sawfish from an aquarium
Staff at the Territory Wildlife Park in Darwin have to remove a large saw fish from an aquarium for transport elsewhere. But how to get the sawfish, which has a long nose lined with sharp transverse teeth, out of the tank, with no-one getting hurt? Watch the video
---
Researcher investigates sawfish survival
24 Ocrober 2014
Marine Hub and CDU researcher Dr Kate Buckley is exploring how removing sawfish from their natural habitats to display in public aquariums affects the critically endangered species' population numbers. As part of her study, she released five Largetooth Sawfish back into the river to monitor their survival rates after they had been captured in the Northern Territory's Adelaide River and held in captivity for six months. She said these sawfish showed similar movements to other wild sawfish in the river, which indicated that their wild instincts may not have been lost after being held in captivity.   Read the media release and also ABC News NT coverage on Monday 27 October
---
Territory Wildlife Park celebrating 25 Years
17 October 2014
Gliding overhead in the walkthrough tunnel exhibit, Largetooth Sawfish (Pristis pristis) have always been an impressive feature of the Territory Wildlife Park Aquarium. Now they are part of a major research project. Read about Hub researcher Kate Buckley and her project in the Tracking Sawfish article on page 3 of TWP's October newsletter.
---
Threatened Species Commissioner assists NERP sawfish and river shark project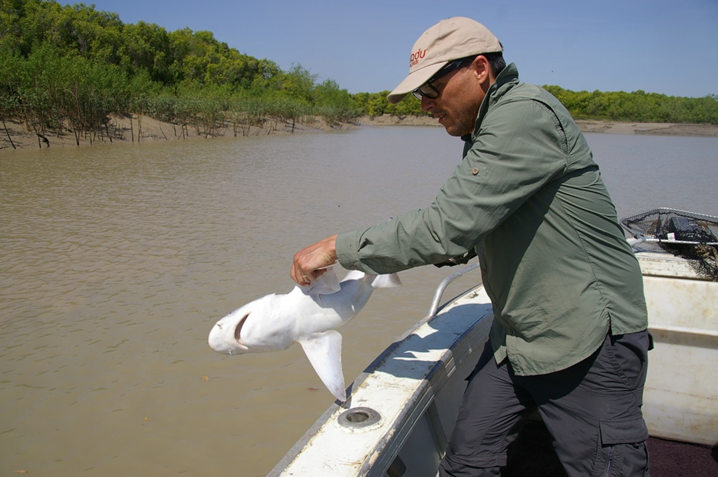 7 September 2014, South Alligator River, in Kakadu National Park
Last week the Department of the Environment's Threatened Species Commissioner, Gregory Andrews, rolled up his sleeves to help NERP researchers sample and tag threatened river sharks on Kakadu National Park's South Alligator River. The Commissioner caught an Endangered Northern River Shark which had been tagged a year previously, and assisted with obtaining data from the shark before he released it back into the river. Recaptures of tagged sharks provide data on survivorship, movements and growth rates - information which was not previously known prior to the NERP project. Kakadu is a focus of the NERP Marine Biodiversity Hub and NERP Northern Australia Hub research on threatened sawfishes and sharks, which aims to provide the Department with information needed to manage and recover populations of these species. Earlier this year the Hubs released a Guide to Sharks of Kakadu Rivers.
Related information
---
Plundered for their unique body parts, sawfish are on the brink
The Conversation, 8 July 2014
Sawfish are the most endangered group of marine fish in the world, largely thanks to overfishing and habitat loss. Formerly abundant, they have disappeared from many countries' waters, and in many others they are scarcely holding on.
To put it bluntly, sawfish have been devastated. But we could reverse the trend. Recently the International Union for Conservation of Nature's Shark Specialist Group released the first Global Sawfish Conservation Strategy. It won't be easy, but they are steps we need to take if we are to save the world's threatened sawfish. Read the full story
---
Sawfishes included in proposals on the Conservation of Migratory Species of Wild Animals
Some of the world's most endangered species, many of them migratory, are facing unprecedented threats from climate change, habitat destruction to over exploitation and pollution which has led to a number of new listing proposals for consideration at the Convention of Migratory Species (CMS) meeting international wildlife conference scheduled to take place 4-9 November 2014 in Quito, Ecuador.  Five species of sawfishes, some of which are critically endangered, have been proposed for listing on Appendix I and II.
The United Nations Environment Programme (UNEP) administered Convention on the Conservation of Migratory Species of Wild Animals (also known as CMS or the "Bonn Convention") is the only global convention protecting species that move across international boundaries. Every three years it holds an international meeting of all its members - the Conference of the Parties (COP) - to agree on internationally coordinated conservation measures for the world's migratory species and to decide which species should be protected under its two Appendices.
CMS brings together the States through which migratory animals pass to agree on internationally coordinated conservation measures for a wide range of endangered migratory animals worldwide. CMS is a growing convention with special importance due to its expertise in the field of migratory species. At present, there are 120 Parties to the Convention.
Further information:
---
Launch of a new Global Conservation Strategy for Sawfishes
5 June 2014
The Shark Specialist Group (SSG) of the International Union for Conservation of Nature (IUCN) released a global strategy to prevent extinction and promote recovery of sawfishes, which have been devastated worldwide by overfishing and habitat loss.
Access the supporting documents from the website of our research collaborator, NERP Northern Hub, and IUCN Sawfish strategy webpages:
---
Hope for West African Sawfishes
May 2014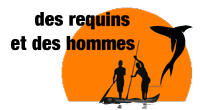 Back from the First Field research expedition, the AfricaSaw program can proudly announce that Sawfishes are still present in Western Africa. Despite the dramatic decrease in sawfish populations, since the 70's, some specific locations were identified in Guinea Bissau and Sierra Leone during the recent investigations conducted in collaboration with the fisheries departments of the two countries. Juveniles and mature females were caught regularly over the last three years bringing unexpected hope for these rays considered as the most endangered elasmobranch species.
---
Australian endangered species: Largetooth Sawfish
The Conversation, 18 April 2014
Sharks and rays are some of the world's most threatened animals, with a quarter of all species at risk of extinction. Among the sharks and rays, sawfish are some of the most threatened, with all five species listed as Critically Endangered or Endangered by the International Union for Conservation of Nature (IUCN). Read the full story
---
Draft Recovery Plan for sawfish and river sharks open for public comment
This document constitutes the draft Recovery Plan for Sawfish and River Sharks (Pristis pristis, Pristis zijsron, Pristis clavata, Glyphis glyphis and Glyphis garricki) 2014. The recovery plan sets out the research and management actions necessary to stop the decline of, and support the recovery of, threatened sawfish and river shark species in Australian waters. (Image:  Miguel Clavero)
Download the plans from http://www.environment.gov.au/resource/draft-recovery-plan-sawfish-and-river-sharks-pristis-pristis-pristis-zijsron-pristis
The public comment period closes on Tuesday 29 April 2014.
---
A quarter of sharks and rays threatened with extinction
21 January 2014
A quarter of the world's sharks and rays are threatened with extinction according to The IUCN Red List of Threatened Species™, with ray species found to be at a higher risk than sharks. The findings are part of the first ever global analysis of these species carried out by the IUCN Shark Specialist Group (SSG). In this analysis, sawfishes have been shown to be one of the most threatened families. More information
---
Tagging sharks amid crocs in the Top End
In September 2012, as Top End floodplains were drying, NERP Marine Biodiversity Hub and Northern Hub scientist Peter Kyne received an alert that two largetooth sawfish (Pristis pristis) were stranded in a waterhole near the Daly River. Read the newsletter story
---
Tracking threatened sawfish down the Adelaide (while trying not to look like croc bait!)
Follow Marine Hub PhD student Kate Buckley's blog while she tracks threatened sawfish down the Adelaide River in the Northern Territory.
---
Short film highlights sawfish and river shark research
Watch researchers from the NERP Marine Biodiversity Hub and the Northern Australia Hub investigating the population size and movements of sawfish and river sharks in the waterways of Kakadu National Park (More information)    Also check out the Parks Australia blog for their story
---
Search for secrets of river sharks and sawfish
Origins magazine, Charles Darwin University, Edition 1, 2013
"The largetooth sawfish, the largest freshwater fish in the world, is at risk of extinction.  Research Fellow Peter Kyne is working to understand this species before it is too late." Read the full story
Links: Origins magazine
---
Sawfish and the Convention on International Trade in Endangered Species
Bangkok, Thailand. March 2013
The 16th Conference of Parties of the Convention on International Trade in Endangered Species (CITES) was held recently in Bangkok, Thailand. At this meeting, a proposal to transfer 'Freshwater Sawfish Pristis microdon' (now known as Largetooth Sawfish P. pristis) from Appendix II to Appendix I was accepted. This aligns all sawfish onto Appendix I effectively prohibiting international trade in these species. 'Pristis microdon' was previously listed on Appendix II 'for the exclusive purpose of allowing international trade in live animals to appropriate and acceptable aquaria for primarily conservation purposes'.
More information:
---
The Sawfish formally known as...
Darwin, Australia. 30 January 2013
In recent times, the sawfishes have been treated as seven distinct species. A paper published this year, however, has reviewed and adjusted the taxonomy of the family.
Vicente Faria and colleagues published 'Species delineation and global population structure of Critically Endangered sawfishes (Pristidae)' in the Zoological Journal of the Linnean Society.
The 'largetooth sawfish'-group has previously been considered to consist of three distinct species: Pristis pristis (a name used in the eastern Pacific and Atlantic), P. perotteti (Atlantic) and P. microdon (Indo-West Pacific). However, Faria and colleagues found no characters to separate these and propose that they all be treated as the one species: the Largetooth Sawfish Pristis pristis read more
---
Australia joins unprecedented effort for international shark and ray trade measures
Sydney, Australia. 11 October 2012
Australia has joined 37 other countries in proposing protections for shark and ray species under the Convention on International Trade in Endangered Species (CITES). Australia is pursuing an end to all commercial international trade in the Critically Endangered freshwater sawfish through CITES Appendix I. Less restrictive trade measures through Appendix II are being proposed by various other CITES Parties for the oceanic whitetip shark, three species of hammerheads, porbeagle shark, both manta rays, and three freshwater stingrays. CITES Parties will debate and vote on listing proposals in March 2013 in Bangkok... read more
---
Securing the future for sawfishes
27 September 2012
There was a time when so many sawfishes were caught in areas of Pakistan that people made fences with the rostrums, the saw-like beak of the sawfish. Today, however, some people in the region might catch a sawfish just once or twice a year. Earlier this month at the IUCN 2012 World Conservation Congress, the Shark Specialist Group of IUCN's Species Survival Commission (SSC) took the opportunity to promote sawfish conservation and build awareness with people who may be able to help stop sawfishes disappearing from our waters forever... read more