November 25, 2018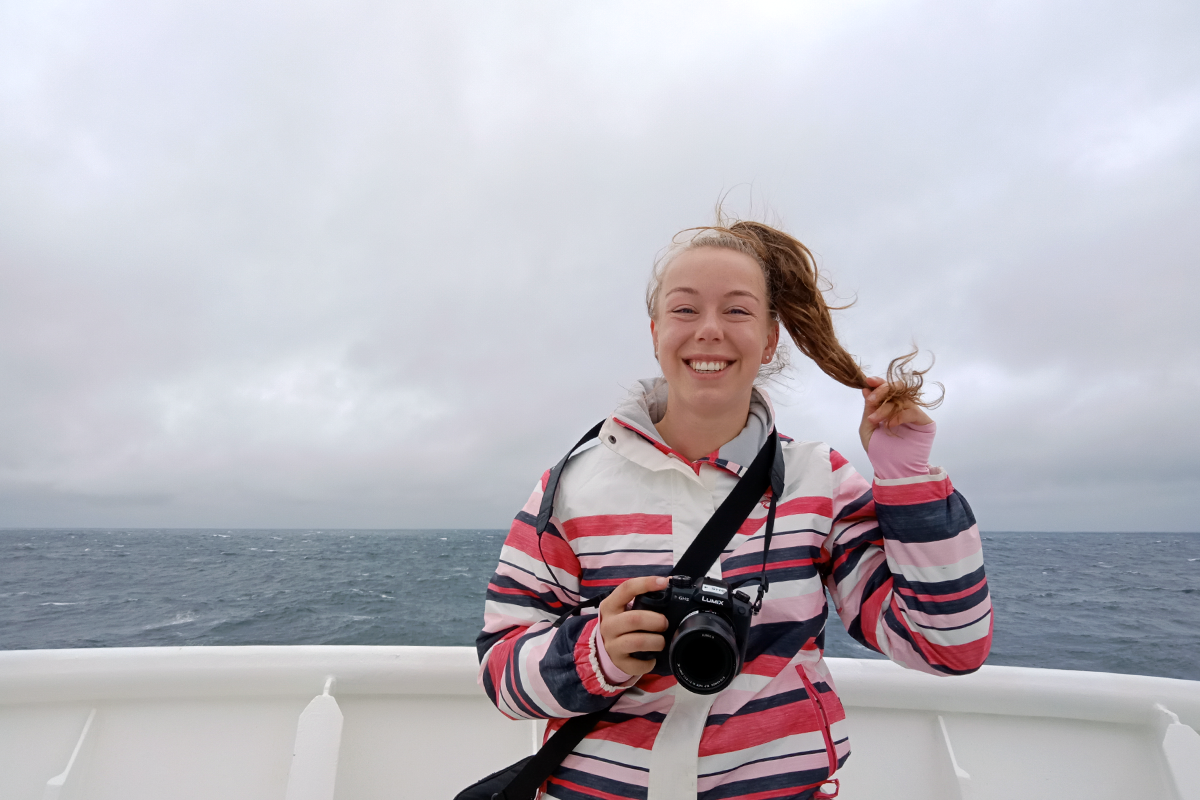 Day 3: Onboard communicator, Bethany Green
On the afternoon of 22 November, I arrived at the Hobart CSIRO reception, fresh-faced, a little anxious, and eager to see what the next month at sea would bring. I was soon joined by an array of scientists and marine park managers from around Australia – plus one Kiwi – all eagerly anticipating the hands-on research opportunity provided by Investigator. Luggage and specialised scientific equipment in tow, we clambered onboard: many of us for the first time.
 
We cast off from Hobart at 08:00 the next day, amid strong winds. After steaming past an oil rig sitting in the middle of the Derwent River, we set out in earnest for the southern seamounts. Unfortunately, the rough sea and the motion of the ship did not agree with my stomach. Just after 10.00 the first bout of seasickness hit and I and several others spent the better part of the day lying in bed or in the bathroom.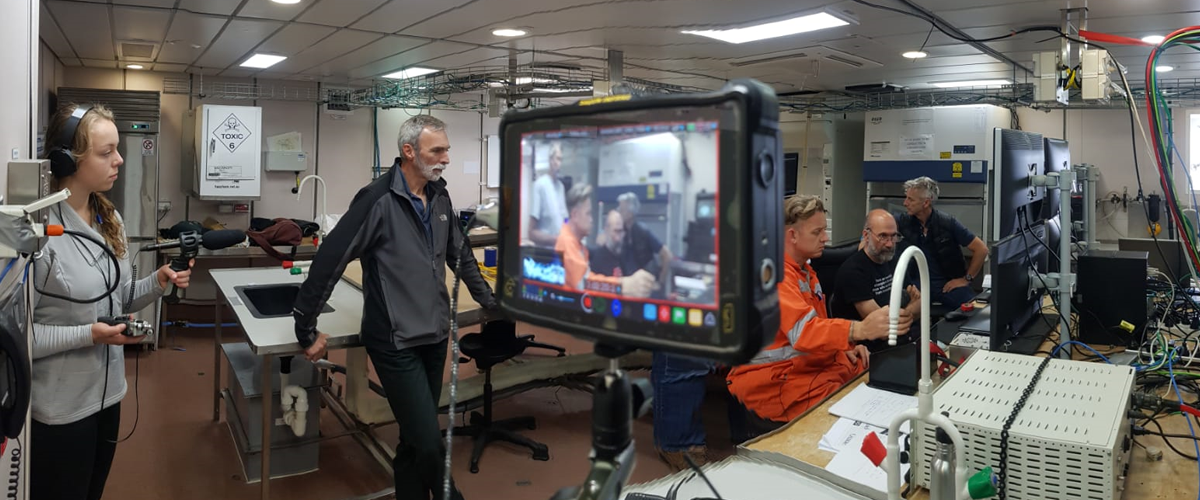 There were more challenges to come when videographer Andy Terhell and I filmed our first piece-to-camera on deck as Investigator pulled out of Hobart. I quickly learned we would need to adapt our methods of media collection to better suit the new environment. Within the first few minutes, the gear case and microphone cover had blown down the stairs, and the camera and tripod had toppled to the ground – either due to the wind or the motion of the vessel. We have since learned that gear is best setup inside, out of the wind, and that the camera and tripod must be manually stabilised at all times.  
So far, one of my highlights of the voyage has been spending time on the Monkey Bridge and on the fo'c'sle (the forward part of the ship's upper deck) with the seabird and marine mammal observation team: Eric Woehler, Zara King and Alice Forrest. On Saturday morning, Eric, Alice and I spent half an hour with salt water and wind whipping across our faces, cameras poised to capture images of an unusually large collection of Southern Royal Albatross, Shy Albatross and Westland Petrels as they as they swooped, left to right, across the bow of the ship.  Eric's passion for seabirds is obvious, particularly in this environment – up close and personal with the birds – and his excitement inspires all those around him. The same goes for all the scientists onboard when they talk about their different areas of specialisation: their passion is catching.

Despite a brief bout of seasickness, my first few days aboard Investigator have been jam-packed and exciting. I look forward to what the next few weeks will bring.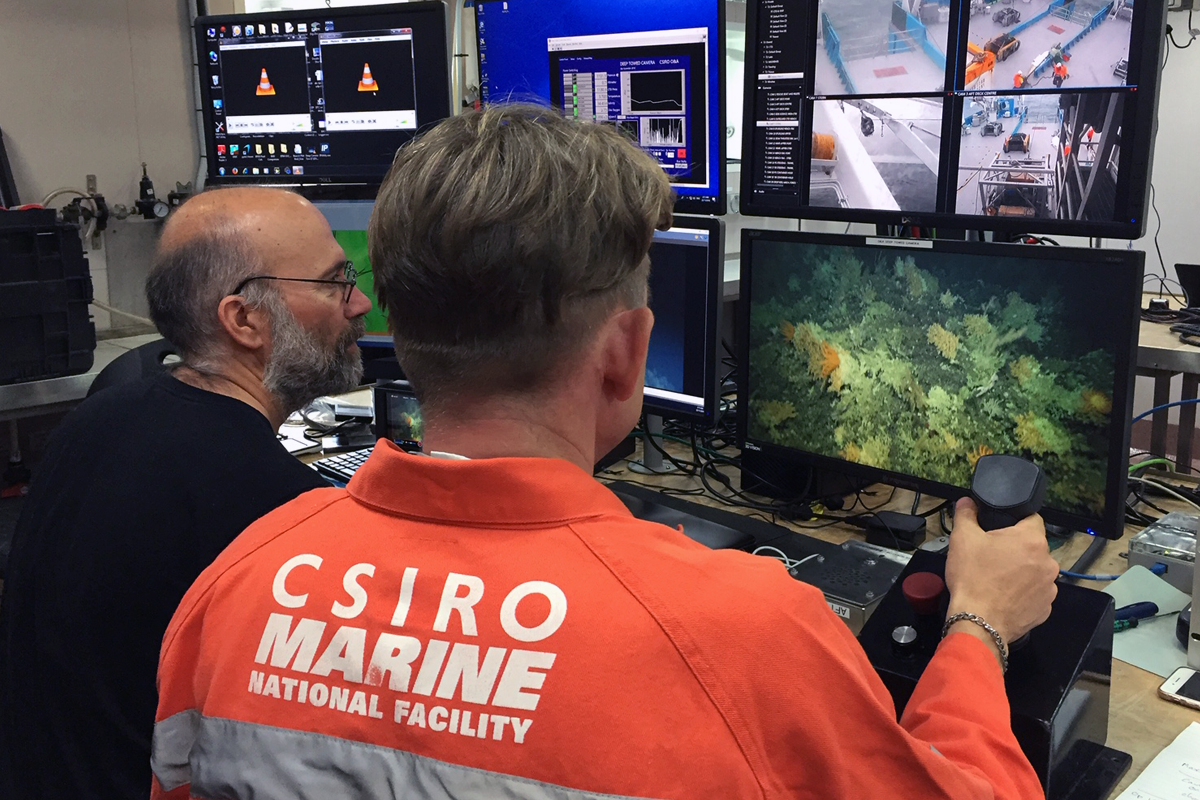 Voyage date:
Sunday, November 25, 2018