August 15, 2012
NERP Marine Biodiversity Hub researchers are contributing to a global conservation strategy for sawfishes: perhaps the world's most threatened fish family, with all seven species listed on the IUCN Red List as Critically Endangered.
In May, Dr Peter Kyne of Charles Darwin University (CDU) and the Hub joined international colleagues at a meeting convened by the IUCN Species Survival Commission Shark Specialist Group. They aim to develop a Global Sawfish Conservation Strategy by early 2013.
Dr Kyne led reviews of two species occurring in Australia, the Dwarf Sawfish and Freshwater Sawfish, for reassessment against the IUCN Red List Categories and Criteria, as well regional syntheses of the status of all sawfishes in the Eastern Indian Ocean-Western Pacific Ocean region. Dr Richard Pillans of CSIRO is to evaluate the updated Red List assessments for those species occurring in the Indo-West Pacific.
The meeting found common ground between Australia and the United States that could lead to a sharing of methods and future collaboration between the Marine Hub and US scientists tasked with recovery of threatened sawfish species. Quantitative population assessments are needed in both the US and Australia and a sharing of data could help implement future conservation strategies.
Sawfishes, and in particular the euryhaline Freshwater Sawfish, are key species studied by the Hub. Researchers have worked with the Department of Sustainability, Environment, Water, Population and Communities (SEWPaC) to guide recovery objectives for Pristis sawfishes which are listed on the Convention on International Trade in Endangered Species of Wild Fauna and Flora (CITES) and the Australian Commonwealth Environment Protection and Biodiversity Act.
The Marine Hub project, 'Supporting management of listed and rare species', aims to improve the scientific foundation for making management decisions about rare and threatened species. Innovative methods will be developed to assess the population status of data-poor, low abundance, rarely-encountered elasmobranchs, with a focus on threatened sawfishes and river sharks in northern Australia. Sawfishes are an ideal initial focus for this research given the continuing requirement for difficult management decisions. The methods include sampling juveniles in Northern Territory rivers, estimating juvenile movement and mortality using acoustic telemetry, and using Close Kin Genetics to estimate population size in the Northern Territory.
The project involves CDU, Northern Territory Fisheries and CSIRO with contributions from the NERP Northern Australia Hub. It will provide the first quantitative population estimates of Freshwater Sawfish in Australia and provide SEWPaC with additional management options. This is a critical step forward in the management of this species, contributing to the success and evaluation of recovery plans and actions.
---
Photo: 
Sawfish, Daly River, Northern Territory.   Richard Pillans, CSIRO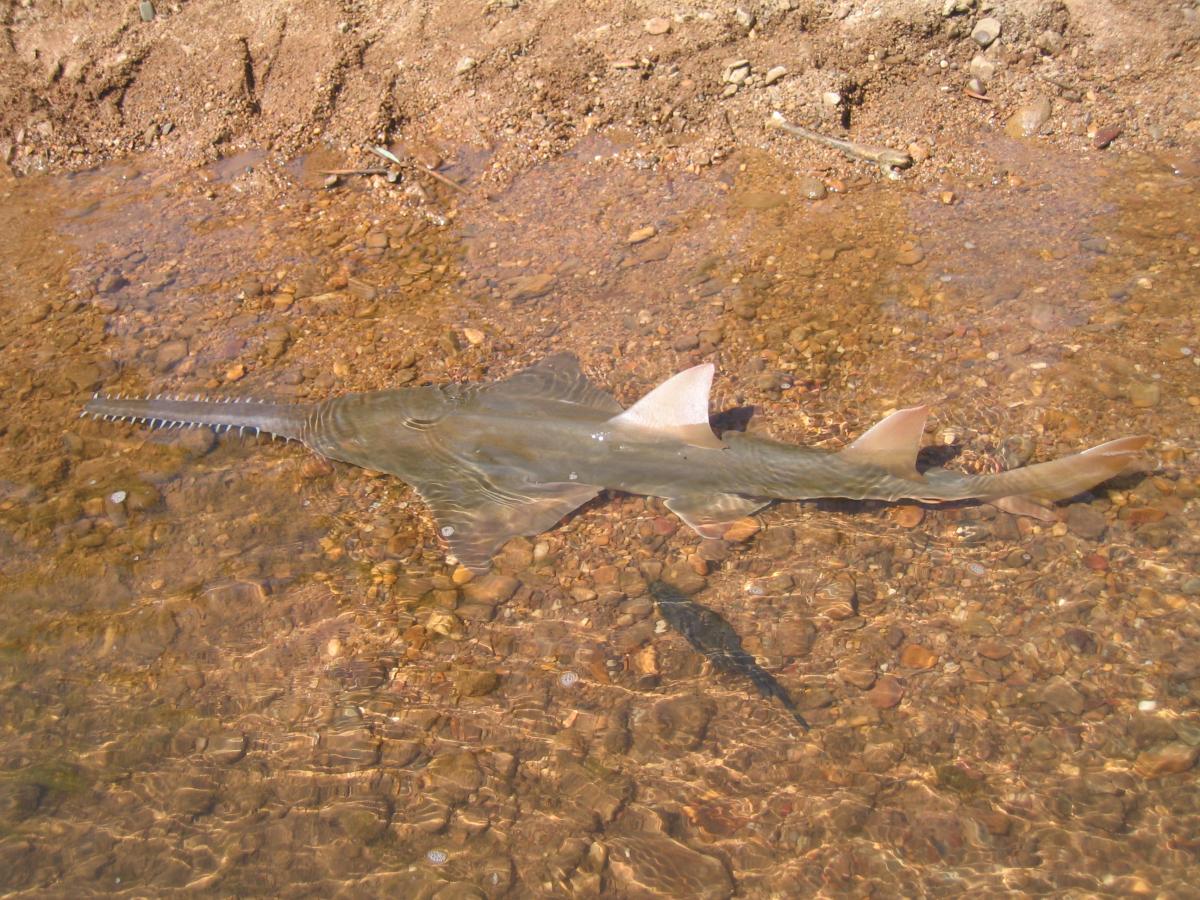 Further reading:

Contact:
Dr Peter Kyne, Charles Darwin University