January 7, 2015
---
Ensuring a future for life in Australia's oceans
The Marine Biodiversity Hub's exhibition of images celebrated the International Year of Biodiversity in 2010.  It has now become a travelling exhibition at venues around Australia.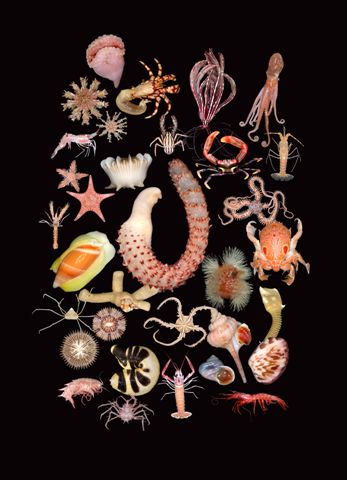 The exhibition contains images from Hub partners (and a few more), and was curated by Mark Norman, Head of Science at Museum Victoria.
Our aim is to reach out to the general public (especially school students) and raise their awareness of the beauty and fragility of Australia's marine biodiversity. We also raise the need for cutting edge science and management to protect and sustainably use this environment. 
There are 19 images in the exhibition and they include coral reefs, giant kelp forests, handfish, maps of the seafloor, new sharks and stingrays.
(The Marine Biodiversity Hub is a collaborative partnership supported through funding from the Australian Government's National Environmental Research Program (NERP). NERP Marine Biodiversity Hub partners include the Institute for Marine and Antarctic Studies, University of Tasmania; CSIRO, Geoscience Australia, Australian Institute of Marine Science, Museum Victoria, Charles Darwin University and the University of Western Australia.)
Photo credits:
Image (above) - Seabed invertebrates from Australia's deep western continental margin.  Copyright: CSIRO
Image (right) - Mapping the deep. Lord Howe Island.  Copyright:  Geoscience Australia
Image (right) - Walking on your hands.  Pink Handfish.  Copyright: Karen Gowlett-Holmes
Individual photo credits: Bruce Barker (CSIRO), Mark Norman, Gary Bell, Julian Finn (Museum Victoria) Chris Fallows/apexpredators.com, Karen Gowlett-Holmes, Eric G Matson (Australian Institute of Marine Science), Greg Mellin (Australian Museum), David Paul (dpimages).  Contributing organisations: CSIRO, Geoscience Australia, Australian Bureau of Statistics
---
Resources and downloads
Information pack including thumbnails of the 19 image panels in the exhibition
Request a poster (A2 size) - New Australian sharks and rays, biodiversity, putting names to a sea of faces (CATAMI), Sharks and Rays of Northern Australian Rivers
Audio visual:
Links to other organisations:
Atlas of Living Australia - Explore Australia's species and natural history collections.  The Atlas of Living Australia is the Australian node of the Global Biodiversity Information Facility, an Australian Government Initiative.
Fishmap - free online mapping tool that allows anyone interested in fish to discover which fish species occur at any location or depth throughout the marine waters of Australia's continental shelf and slope
---
Visitor comments
"Closest to a fish tank yet" - visitor, Parkes Library, NSW
"What a great exhibition! Informative, interesting and engaging" - visitor Sir John Gorton Library, Vic
"The Marine Biodiversity Hub exhibition is absolutely wonderful" - visitor Sir John Gorton Library, Vic
Submit your comment
---
Seeking new venues - Contact Us
We are currently looking for venues for our travelling exhibition.  Do you know anyone who might be interested?
Download the flyer or information pack of image thumbnails, and email us
---
Current and Upcoming Venues:
We are currently seeking new venues - see above.
Institute for Marine and Antarctic Studies
Waterfront, Battery Point, Hobart
22 October to 18 December 2015
---
Past Venues:
Science Week 2015
Festival of Bright Ideas
14 August 2015 (Schools day)
15 August 2015 (public day)
Princes Wharf 1
Castray Esplanade, Hobart
Scienceworks, Museum Victoria
18 February to 15 April 2012
supporting Questacon's travelling exhibition "Our Water"
 
Geoscience Australia, Canberra
Open Day - Sunday 17 October 2010
 
Questacon, Canberra
The Questacon exhibition of photographs opened on 21 May 2010, the day before International Day for Biological Diversity on the 22nd and was on display until 31 August 2010

Hub at National Science Week 14-22 August 2010
---
International Year of Biodiversity 2010
Links:
Read the Hub's entry
www.cbd.int/idb/ - The United Nations proclaimed May 22 The International Day for Biological Diversity (IDB) to increase understanding and awareness of biodiversity issues.
---
Contact us 
+61 3 6232 5462