July 2, 2019

Marine Biodiversity Hub PhD student Darryn Sward is well acquainted with the marine life that dwells off Bicheno and the Tasman Peninsula.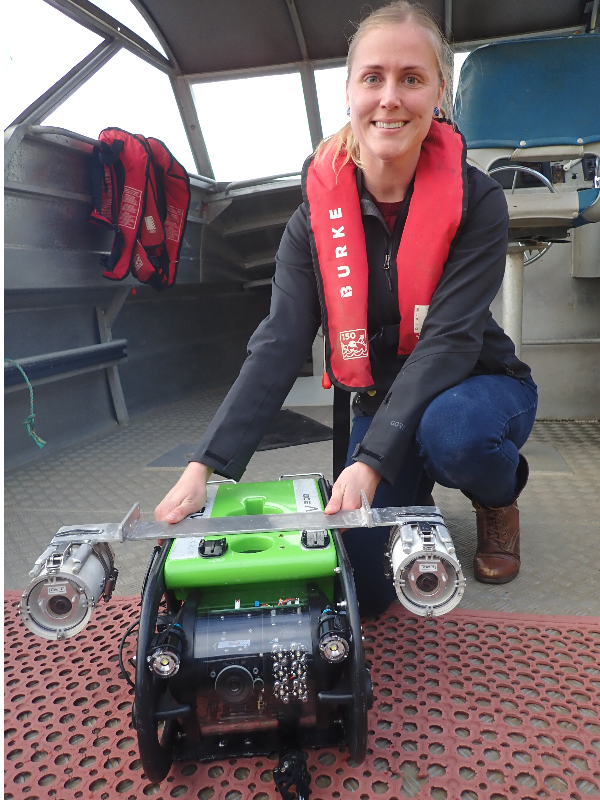 With her team from the Institute for Marine and Antarctic Studies, she has 'flown' a remotely operated vehicle (ROV) across more than 33 kilometres of seafloor, recording life amid the swirling sediments and rocky reefs.
Darryn's PhD research is helping to evaluate the usefulness of ROVs for surveying the fish life and seafloor habitats from five to 110-metre depths, and exactly how to go about it.
In the process she's building knowledge about how fish and urchin life varies off south-eastern Tasmania – in and out of marine parks and with depth and distance from shore – and the pattern of seabed habitats.
Ultimately Darryn's work will help guide the best ways of undertaking both inventory and monitoring the Australian Marine Park network.
'This has been the first real test of ROVs in Tasmania,' Darryn says. 'There has been so much to learn about transporting, deploying and flying the ROV, but after getting the hang of it, it's been a lot of fun.
'Onboard the vessel I use a controller similar to what is used for gaming systems to operate the ROV, all the time watching the screen (relaying video from the ROV) to see where we are going.
'I signal the ROV thrusters to move up, down, forward, backward, or in a circle – always trying to keep a constant elevation, one metre above the seafloor – while the skipper keeps the vessel above the ROV without moving over the tether that provides the power and fibre optics.
'Surveys of the effectiveness of a marine park at Bicheno – in the vicinity of Governor Island and Cape Lodi and Butlers Point – were particularly challenging. We had to deal with proximity to exposed shorelines, strong currents, oceanic swells, and even entanglement of cables in kelp.'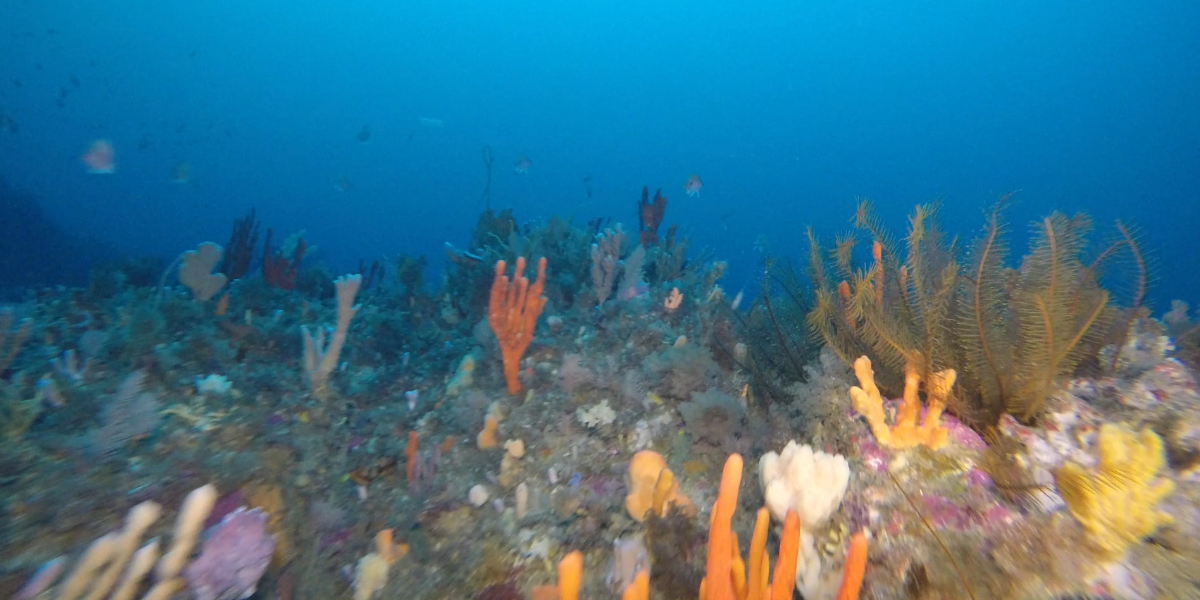 Immersed in reality
After completing 200-metre transects at 160 sites, Darryn has accrued more than 200 hours of video from the ROV's paired cameras.
Now she's immersed in video re-runs . . . counting, identifying and measuring the fishes, and describing associated habitat features, such as seaweed, sponges, substrata type (such as sand or rocky reef).
She can spot differences between habitat at Bicheno and the Tasman Peninsula, and has definitely seen lots of new fish species whose range is extending into Tasmanian waters, such as Stars and Stripes Leatherjackets and Kingfish.
'It's pretty cool as you see a lot of things you wouldn't otherwise, particularly in the water which is too deep for scuba diving' she says.
'I've seen a lot of amazing fish that I didn't know existed. My favourites have been Rainbow Cale, really big seahorses that look like sticks, curious seals nosing the camera, cuttlefish, and sharks all curled up on the sand.
Off the Tasman Peninsula, we also spotted the wreck of the steamship Tasman, which struck rocks off Fortescue Bay in 1998 and now lies in some 70 m of water.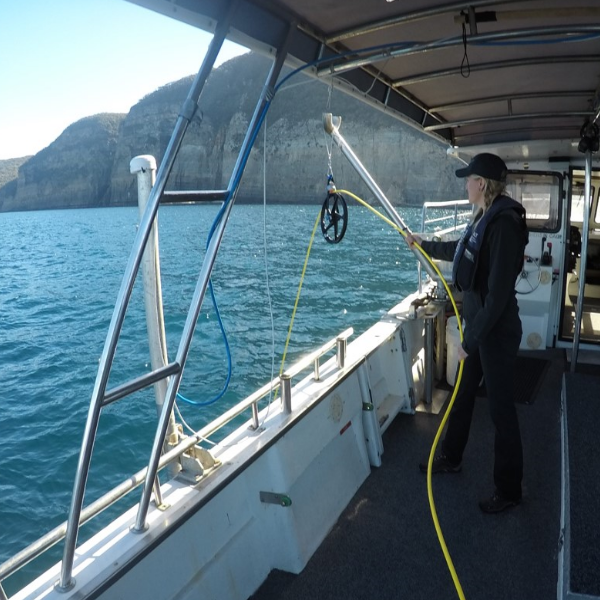 Simulating seafloor habitats
Despite hailing from Minnesota in the United States, Darryn knows more than anyone about the areas she has surveyed. But what about parts in between?
Surveying between her transect lines with an ROV would take Darryn well beyond her retirement.
Fortunately, she can cover the distance a lot sooner using the data she has collated, which give her the magical power to extrapolate.
Darryn will pinpoint relationships between her fish and habitat data, and the seafloor bathymetry (depth and shape), which has been mapped for the broader area using multibeam sonar, a much less time-consuming technique than visual surveys.
She can make these relationships because her fish and habitat descriptions are precisely located by USBL (ultra-short baseline) underwater acoustic positioning.
Darryn's predictions show how the patchwork of habitats between the survey transects supports different abundances of species, and will provide an evidence base to guide decisions about biodiversity management.
For example, as part of her PhD research, Darryn is using this framework to predict abundances of the long-spined urchin, which has been creeping southwards from its native habitat in New South Wales for the past 20 years. Their overgrazing in Tasmania's warming waters causes barrens that affect the biodiversity of rocky reef habitat.
Darryn has quantified the urchins and the extent of their barrens between Bicheno and the Tasman Peninsula. Near Bicheno she saw some large barrens, and on the Tasman Peninsula she saw small areas where they have stripped the algae off rocks.
Facilitating further use of ROVs
Another aspect of Darryn's PhD research has involved reviewing the global use and capabilities of ROVs.
She has reviewed 119 research papers to determine best-practice strategies for future surveys, investigating ROV types, depths and locations surveyed, aspects measured, deployment methods and analytical approaches.
'ROVs are used worldwide to visually survey fishes and track the success of management actions at a range of depths, including in marine protected areas,' she says. 'But they haven't been widely adopted for surveying and monitoring in Australian marine parks.
'I hope that my work will help to demonstrate the practical applicability and cost-effectiveness of ROVs in answering a range of management questions, leading to an expansion of their uptake in the future, because I see them as a valuable monitoring tool.
'After completing my PhD, I'd like to be able to do more work with ROVs in Australia, but first I have three more research papers to complete.'