October 17, 2018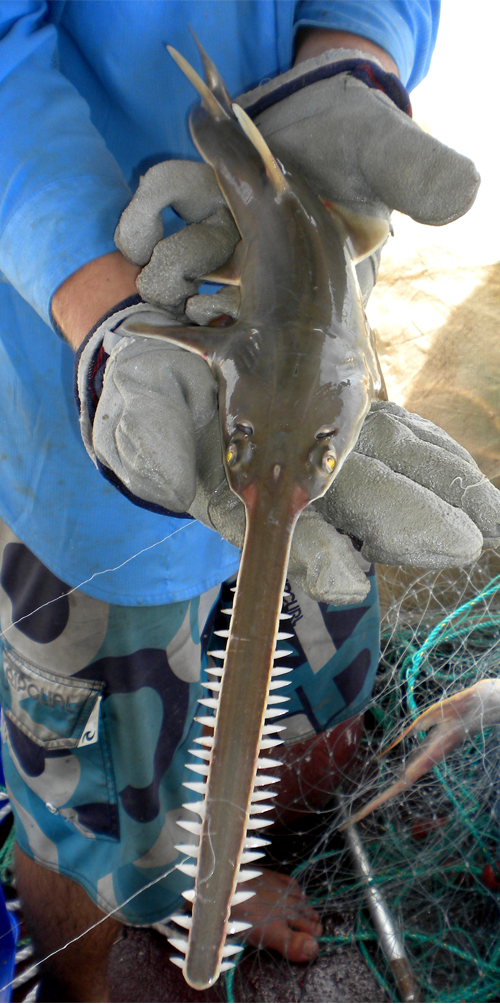 MEDIA RELEASE
One of the most endangered fish on the planet could receive a lifeline through a research project about to begin in Northern Australia.
Coinciding with International Sawfish Day on 17 October, Charles Darwin University (CDU) and the Northern Prawn Fishery (NPF) are launching a project to study the Narrow Sawfish across Northern Australia.
Sawfish numbers have plummeted around the world, but populations of four species persist in Northern Australia, providing unique opportunities to study these bizarre-looking relatives of sharks. One of these species is the Narrow Sawfish, Anoxypristis cuspidata.
CDU's Research Institute for the Environment and Livelihoods researcher Dr Peter Kyne welcomed the project.
"It's great to see the fishing industry and scientists coming together in this new project," he said. "Narrow Sawfish are protected by federal law, but they are easily entangled or caught in commercial fishing nets, such as trawl nets and gillnets, mainly due to the teeth on their rostrum snagging on the nets."
For the next two years, skippers and crew in the NPF will take a small tissue sample from any Narrow Sawfish that are captured accidentally, before releasing them back into the wild.
"These tissue samples will be analysed by CSIRO, along with valuable samples provided by State and Territory fisheries agencies," Dr Kyne said. "The results will help us understand how widely the sawfish move and interbreed."
The project aims to find out more about this little-known ray to guide fisheries science, management and industry, and help mitigate the risks to sawfish populations.
NPF Industry Pty Ltd chief executive officer, Annie Jarrett said the organisation was supportive of the research and excited to be partnering with CDU.
"Managing and mitigating interactions with sawfish is a priority for the NPF and to ensure we can do this effectively we need to know more about the sawfish and their populations," she said. "We will be encouraging our fishers to participate in the sample collection."
The project is part of a broader National Environmental Science Program (NESP) Marine Biodiversity Hub project exploring the status of threatened and migratory marine species across northern Australia.
Contact
Danielle Lee-Ryder, Media Officer, Media and Communications, Charles Darwin University
T: +61 8 8946 6270 M: +61 455 097 539 E: danielle.lee-ryder@cdu.edu.au
ABC NT Country Hour story: Saving sawfish: Prawn industry and Charles Darwin Uni team up to research and protect endangered fish