May 20, 2017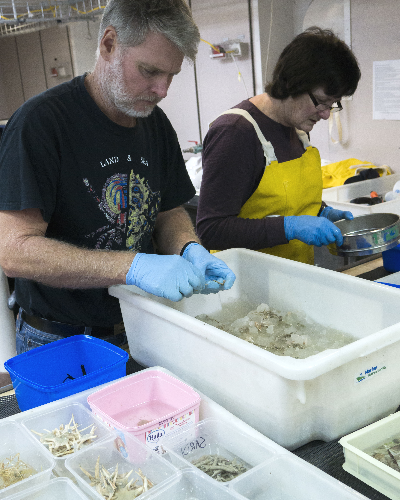 Day 6: Merrick Ekins, Queensland Museum

It's day six of the expedition and we are now cruising north to the Bass Strait. After five days of glorious weather off Tasmania's east coast, a cold front has now rolled over, causing the wind and swell to rise considerably. My body still isn't used to rising at 2 am for the 12-hour shifts we're subjected to, and I spend the next five hours until breakfast staring down a microscope, looking for tiny animals.
With the rocking of the boat, a few hours watching specimens sliding backward and forwards under the microscope, the lab has progressively emptied and I'm left in silence to contemplate my samples.
Sifting between the sand grains, I encounter UFO-shaped forams (microscopic organisms) and other signs of life on this microscale. Sponge spicules occasionally catch the light, like crystals among the muck. Micro gastropods, tiny snail shells less than 1 mm across, a bivalve of a similar size, then a solitary nematode with a ridiculously disproportionate size of 1 mm in width, but a whopping 2 cm in length, all found one teaspoon of sediment at a time.
This sediment came up last night from 4000 metres in a beautiful box core sample, which cuts nearly a cubic foot out of the seafloor. Kept almost perfectly intact, this sample allows you to observe the different layers of the seafloor, with deep-sea organisms still in-situ, in or on the sediment.
Now, as we steam north, we watch video from the towed camera array, towed over the seafloor at 2000 m while I slept. In the footage we spot the rare animals that we hope to see in the flesh in the upcoming weeks: animals such as the stalked crinoid or an intact glass vase sponge, as delicate as a champagne flute.